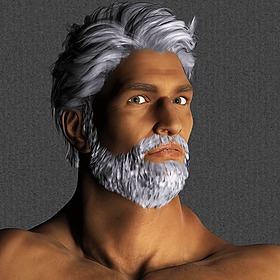 Madeira Desouza of Las Vegas -- gay male artist and storyteller
Madeira Desouza's Bio:
Las Vegas artist and storyteller known for highly masculine men in visual arts.

His works depict bodybuilders, cops, cowboys, soldiers and other iconic masculine characters in themes that gay adult men find appealing. Desouza of Vegas is comparable in visual styles and themes to the artist Genoroh Tagame and other artists such as Etienne, Greasetank, Hasegawa, Tom of Finland, and Ulf.
He produces visually compelling works in computer-generated imagery (CGI) for adults revealing masculine men. See more of his images.





He also creates genre-busting queer sci fi (gay science fiction) BAJA CLAVIUS that features a rare racial and cultural diversity in nonstereotypical gay male characters.



He is a pioneering proponent of an American bara genre in the 21st century with deep roots in Japanese bara underground art that originated 50 years ago. The illustrations and stories that Madeira Desouza produces lean toward the violent and exploitative and definitely are not about gay romance or romantic love between two men. 


Save
Save
Save
Save
Save
Save
Save
Save
Save
Save
Save
Save
Save
Save
Save
Save
Save
Save
Save
Save
Save
Save
Save
Save
Save
Save
Save
Save
Save
Save
Save
Save
Save
Save
Save
Save
Save
Save
Save
Save
Save
Save
Save
Save
Madeira Desouza's Interests & Activities:
Las Vegas; computer-generated imagery (CGI); masculine men; queer sci fi; gay science fiction; DAZ 3D software; print, film, television science fiction; bara genre; underground artists; surreal art; surrealism